Restaurant Recommendations
My favorite sushi bars in Tampa!
Alabama Arizona Arkansas California Colorado Conneticut Delaware Florida Georgia Idaho Illinois Indiana Kansas Kentucky Louisiana Maryland Massachusetts Michigan Minnesota Mississippi Missouri Nebraska Nevada New Hampshire New Jersey New York North Carolina Ohio Oklahoma Oregon Pennsylvania Rhode Island South Carolina Tennessee Texas Virginia Washington West Virginia Wisconsin Wyoming
Austria Brazil Canada Denmark Germany Guam Japan
Sakura: 1025 20th St S, Birmingham (205) 933-1025 - Kudos to Scott for our first recommendations from Alabama! This place is unique for their "midnight sushi" - $1 rolls on Friday, $1 nigri on Saturday. Be forewarned, however, about the "late night crowd"!
Surin West: 1918 11th Ave S, Birmingham (205) 324-1928 - great sushi, though they break with tradition by pricing the nigri individually (rather than by the pair) and the rolls by 3 (instead of 6).
Stix: 3250 Galleria Cir, Hoover (205) 982-3070 - imagine a Chinese restaurant on one side, a Japanese grill house on the other, and a sushi bar in the middle; that's what makes Stix a wonder for sushi eaters and non-sushi eaters alike. They have the thickest cuts in town, according to Scott.
Ah-So: 6033 W Bell Rd, Glendale (602) 978-1177- Sabrina claims its the best sushi she's ever had!
Sekai: 1017 Gilbert Rd, Mesa (480) 545-8131 - Jennifer loves this place for the wonderful sushi & friendly staff!
Ichiban: 1435 E University Drive, Tempe (480) 968-3234 - Cat e-mailed me with this recommendation. It has less of the traditional Japanese atmosphere, and more of the college bar setting. Check out the all-you-can-eat special from 5 - 7 pm.
Sushi 10: 4500 E Speedway #1, Tucson (520) 324-0010 - Huge double portions are the norm at this fairly inexpensive restaurant. Cat says that the service is great, and their non-sushi items are also wonderful. Try the chirashi bowl, filled with rice and a variety of sashimi.
Asahi: 546 W Dickson St, Fayetteville (501) 582-5999 - Travis, along with several Japanese exchange students from his alma-mater, University of Arkansas, love this place for the excellent sushi.
Kyoto of Japan: 123 S Jeff Davis St, Jacksonville (501) 982-9291 - thanks to Josozo for passing this one to us.
En: Werdertorgasse 8, Vienna (01) 532 44 90 - the Japanese chef here offers the finest quality sushi at very reasonable prices. Thanks to Anita for this testimonial!
Shima: Al Pres Taundy 892 Curitiba (41) 224-3868 - thanks to Rafael for sending this recommendation just outside Sao Paulo.
Quina do Futuro: Ruo Xavier Marques 134 Aflitos Reife (81) 3241-9589 - one of my co-workers, Isabelle, gave me this one from her hometown in Brazil. She said its the best!
Sushi Copa: Av. N.S. Copacabana, 1171, Copacabana, Rio De Janeiro (21) 523-1125 - Ana loves the all-you-can-eat sushi buffet here.
Tanaka: Rua Bolivar, 7, Copacabana, Rio De Janeiro (21) 255-3994 - great sushi with a spectacular view of the beach. Try the reasonably priced super combo.
Lika: Rua dos Estudantes - Liberdade, Sao Paulo (11) 270-7435 - a second recommendation for great sushi in the Sao Paulo area from Rafael.
California
Kamakura: 2549 Santa Clara Ave, Alameda (510) 521-9121 - John in Oakland sent this one to me!
Flip's Sushi & Comedy Bar: 128 Catalina Ave, Avalon (310) 510-8585 - yes sir, ladies and gentlemen...a first here on Brian's Sushi Page - a combination sushi bar and stand-up comedy club! Located on Catalina Island, this place has the freshest and "most creative" sushi. They even have a charter business, where you can go out and catch your own sushi. Whoa! They also have a wonderful menu for the non-sushi eating companion(s).
Banzai: 23508 Calabasas Rd, Calabasas (818) 222-5800 - this is my California pick! I ate there during my last visit to my hometown, L.A...and their sushi is excellent. I loved the yellowtail, the spicy yellowtail roll, and the cooked yellowtail collar (a favorite of my father's). A must try is their "Dynamite", which is a dish with scallops, mushrooms, and bamboo shoots baked in a creamy smelt roe sauce; it was delicious. In past years, while visiting my father, sushi always meant driving a few miles out...but this place is not only close (within walking distance), but its among the best I've ever had.
Masa: 63 Daily Dr, Camarillo (805) 987-1065 - "best place on earth (so far) for sushi...and believe me, I've tried many..." - straight out of Sheri's mouth! Masa, the owner of this fine establishment in Ventura County, is a riot; but be forewarned, as the evening progresses, he may be a bit inappropriate for kids' ears!
Ozeki: 4421 Las Posas Rd #E, Camarillo (805) 389-1164 & 1437 S Victoria Ave #E, Ventura (805) 447-9897 - thanks to Wesley for this recommendation.
Miyake: 10650 S De Anza Blvd, Cupertino (408) 253-2668 - Emily from Brazil recommended this place (there's another Miyake in Palo Alto, listed further down).
California Beach: 844 Hermosa Avenue, Hermosa Beach (310) 374-7758 - a rockin' time, says Kimberly; loud music, great food & drink, and sushi-chef / audience participation...lots of fun! Check out their all-you-can-eat Mondays.
Taiko: 14775 Jeffery Rd #K, Irvine (949) 559-7190 - Steve recommends this place!
Miraku: 3740 Mt Diablo Blvd, Lafayette (925) 284-5700 - some good sushi
Sushi Quarters: 2201 S Garfield Ave, Monterey Park (323) 721-3242 - Adam had alot to say about this intimate sushi bar, headed by master chef Arata. The sushi is extremely fresh; 13 different specialty rolls, and he'll create special rolls from customers' requests. The sashimi is a must, which includes live sea urchin & scallops, cracked right in front of you. If you're a new customer, your picture will likely be taken and hung on the wall...and Arata will play a favorite CD a customer brings in. This has to be one fun sushi bar!
Toshi: 6100 La Salle Ave, Oakland (510) 339-1995 - John's opinion - the best tekka-don, superb white or red tuna, and excellent spicy tuna. The quantity exceeds price; a good value overall!
Uzen: 5415 College Ave, Oakland (510) 654-7753 - another of John's favorites.
Tokyo Tokyo: 990 Ontario Mills Dr #H, Ontario (909) 987-7999 - a recommendation from Jaylin
Miyake: 140 University Ave, Palo Alto (650) 323-9449 - recommended by Emily
Satsuma Sushi: 9950 Foothill Blvd, Rancho Cucamonga (909) 941-7415 - Thanks to Peanut for this tip!
Mikuni: 1565 Eureka Rd #1A, Roseville (916) 797-2112 - no details, but Laura recommended this Japanese restaurant in Roseville.
Nishiki: 1501 16th St #111, Sacramento (916) 446-3629 - Laura also recommended this place in downtown Sacramento.
Ono Sushi: 1236 University Ave, San Diego (619) 298-0616 - anonymous tip / no details, though Wendy wrote recently to say that its the best, with the freshest sushi in town. It can be busy, however...especially on the weekends - but its worth the wait!
Kabuto: 5116 Geary Blvd, San Francisco (415) 752-5652 - a favorite among local chefs. Its always busy; if you don't to wait two hours, call ahead for reservations!
Ebisu: 1283 9th Ave, San Francisco (415) 566-1770 - "One word - WOW!" - John says
Tomi: 4336 Moorpark Ave, San Jose (408) 257-4722 - Kim loves it, as does the local Japanese population...especially a very discriminating 8-year-old, who grew up on the shores of Japan (she knows her fresh fish). She loves it!
Iroha: 12953 Ventura Blvd, Studio City (818) 990-9559 - Jessica, who lives in The Big Apple now, recommended this place from her former home. She warns that this gem is not visible from the street; its hidden behind a store, through a Japanese courtyard. Iroha has extremely fresh fish, beautiful presentation, and very polite & attentive service. The hot appetizers are delicious. Look for their special sashimi of the day.
Sushi Nozawa: 11288 Ventura Blvd # C, Studio City (818) 508-7017 - Erin says this place has the freshest sushi in L.A. Chef Nozawa is quite eccentric when it comes to his sushi (similar to the "Soup Nazi" on Seinfeld), and you eat what he recommends at times. Erin finds this exciting as she tries various treats she's never experienced before!
Crazy Tokyo: 18406 Ventura Blvd, Tarzana (818) 345-0837 - Paula raved about this place for its excellent sushi at affordable prices. They also have great fried ice cream!
Kishi: 320 Foothill Blvd, Upland (909) 981-3669 - I received this recommendation about this sushi bar & teppan grill. The oysters and oyster shooters are marvelous. Its not very expensive, but if you want to eat at the sushi bar, be prepared to wait. Ken, one of the sushi chefs, is a very nice guy...and the atmosphere is very cozy. The albacore is a must try!
Sushi Marina: 120 S California St, Ventura (805) 643-5200- "Yummy" according to Susan. Great fresh sashimi makes for wonderful tasting sushi - try the rainbow roll here!
Shiro: 3096 Cambie St, Vancouver, British Columbia (604) 874-0027 - try the awesome inside out crab roll here!
Tanpopo: 1122 Denman St, Vancouver, British Columbia (604) 681-7777 - good all-you-can-eat sushi, tempura, teriyaki, and more!
Sushi-Ya: 230-4370 Lorimer Rd, Whistler, British Columbia (604) 905-0155 - Christine, who wrote to me with an interesting perspective on sea urchin, told me about this place. A couple of "must-try" items: Whistler roll - deep fried snapper, veggies, and spicy sauce & Blackcomb roll - chopped tuna, flying fish roe, tempura flakes, veggies, and spicy sauce.
Edohei: 355 Ellice Ave, Winnipeg, Manitoba (204) 943-0427 - A.J. wrote to me, saying that this is the best quality sushi in the area. Gwendolyn also chimed in, especially about one of the chefs Makoto - who not only trained in Japan, but at DeBrulle (French Culinary Institute)...which explains the traditional Japanese cooking & French style.
Masa: 10-2077 Pembina Hwy, Winnipeg, Manitoba (204) 261-3131 - Marlo loves the sushi at this place, especially the Manitoba Roll, which has wild boar!!!
Wasabi: 588 Broadway (204) 774-4328 & 105-121 Osborne St (204) 474-2332, Winnipeg, Manitoba - two restaurants with different atmospheres. Ask about the great ostrich takati.
Dado: 66 Mall Road, Hamilton, Ontario (905) 318-3399 - Meg recommended this Korean & Japanese place.
Osaka: 581 Barton East, Hamilton, Ontario (905) 540-9696 - Great sushi at low prices, with easy parking and take-out. Thanks Chuck.

Shiki: 715 Wellington Rd S, London, Ontario (519) 668-7407 - Carrie recommends this place for the fresh fish, great service, and beautiful presentation. Try the "Sashimi Don"...and the ginger dressing that tops their salad, its "to die for".
Sushi 4 U: 6465 Millcreek Drive, Mississauga, Ontario (905) 858-9412 - Dana is a twice-a-week regular to this beautiful establishment.
Ichiban: 3150 S Peoria St, Aurora (303) 755-8900 - according to Sue, the sushi is always fresh...and the chef always has something new for you to try! Check it out!
Suehiro: 541 Main St, Grand Junction (970) 245-9548 - an excellent recommendation from Laura.
Hama: 1206 Dixwell Ave, Hamden (203) 281-4542 - "a superb sushi experience"; the praises of Roderick & Laura. The sushi chefs here are the real article, and they have a great apprentice program, so you're always guaranteed the best sushi.
Go Fish: 27 Coogan Blvd, Mystic (860) 536-2662 - while this is mostly a New England seafood restaurant, it also has a full sushi bar. Located in the Olde Mistick Village, it has a soothing, yet modern decor with excellent service. Jennifer says be prepared to wait on a Friday or Saturday night.
Zhang's: 12 Water St, Mystic (860) 572-5725 & 455 Boston Post Rd #58, Old Saybrook (860) 388-3999 - nice selection of sushi! Jon recommends the maki & sushi combo...tons of pieces for around $23 - a great deal.
Osaka: 962A Farmington Ave, West Hartford (860) 233-1877 - thanks to Megan for passing this recommendation along.
Yokozuna: Route 1 & Maryland Ave, Fenwick Island (302) 539-5755 - gracias to K. for this one.
The Cultured Pearl: 19 Wilmington Ave, Rehoboth Beach (302) 227-8493 - Carla and her fiancée enjoy this great restaurant!
Sushitarian: Gothersgade 3, Copenhagen 33 93 30 54 - Sinne sent this one to me...my first international referral! Besides great sushi (a bit pricey, but well worth it), they also serve specialties like foie gras and caviar. There is always a wonderful selection prepared by Japanese chefs who are nothing short of artists.
Sushi Zone: Østerfælled Torv, Copenhagen 35 38 77 73 - Sinne swears by the beautiful fish served here...including the eel, which he states is the best tasting in the world. Where is my passport?!?
Florida
Shiki: 1500 N McMullen Booth Rd, Clearwater (727) 791-7974 - "a must try", according to Kelly. Try the Bayside Roll.
Sakura: 1750 N University Dr, Coral Springs (954) 344-3500 - "Quality reigns supreme" - what they lack in size & atmosphere, they make up for with the freshest sashimi in town! Among Larry's favorites there: red surth clam, scallop, wahoo, marlin, sweet shrimp (head included), & the J&B handroll. They will accomadate unusual requests, especially with first-timers.
Little Japan: 13702 W State Rd 84, Davie (954) 723-9221 - Abe describes this sushi bar as "exotica meets suburbia". The owner, Justin Park, was an apprentice chef in Ft. Lauderdale for 4 years before opening Little Japan...and his small restaurant is truly a delight. The staff is friendly; they're more than glad to offer suggestions or explain something if you have questions. Justin is also more than happy to cater special requests. Thai, Korean, and Japanese fare are available for the non-sushi eaters. Behind the sushi bar, a wide variety of nigri, rolls, and hand rolls...including white tuna tataki, real snow crab roll, lobster tempura roll, and the Dynamite Shell (with scallops, shrimp, spicy mayo, and rice baked in a conch shell half).
Sakura: 763 Highway 98 East, Destin (850) 654-5818 - Sondra sent me this recommendation from this resort area of Florida. Excellent sushi at reasonable prices; she especially recommends the tuna roll combo, which includes tuna roll, spicy tuna roll, California roll, and egg roll, and choice of soup.
Cha-Baa: 6316-18 N Powerline Rd, Ft Lauderdale (954) 489-9198 - longtime BSP readers Marty & Nancy love this place for the unique sushi boats and their dynamite roll.
Ichiban: 2411 S University Dr, Ft Lauderdale (954) 370-0767 - Larry loves this place! The eel, tuna, and yellowtail are excellent. The unique favorites are tasteful delights; like the volcano roll; a conch roll with a mayo sauce...and sushi pizza?!? Its true folks; eel sauce and mozarella cheese tops shrimp and scallop rolls. When the moon hits your eye like a big pizza pie...that's amoré! Larry's friend, Lashonda, enjoys the "My Love Julie Roll"...which is the California roll topped with either salmon, shrimp, or tuna and finished off with eel sauce on top. Sounds great!
Saito's: 15 N J St, Lake Worth (561) 588-1785- wonderful service, nice atmosphere, and the food is great.
Gen-Nai: 2080 Sarno Rd, Melbourne (321) 254-1050 - Tami loves this all-you-can-eat sushi bar. Check out ladies night on Wednesdays. Great spicy tuna; both with spicy sauce, and specially marinated. If your favorite is not on the bar, feel free to make a request...and the chefs will make it! Ed also wrote me about Gen-Nai, stating you get more "bang for your buck" here; the rolls and nigri are huge, and quite reasonable price-wise.
Miyako: 1511 S Harbor City Blvd, Melbourne (321) 676-6006 - Tami's favorite - mainly for the wonderful variety of the freshest sushi in town. The specialties; well, how about the California roll, which is battered and fried, then topped with eel sauce. There's also a different spin on the Rainbow roll, with salmon and tuna on the outside, complemented with thin slices of avocado surrounding the sesame seeds and rice...then, the inside is stuffed with tuna and salmon. Its one huge roll. If you order the sushi dinners, they don't raise a fuss (or raise the price) if you want to make substitutions.
Misuzu: 1905 N Orange Ave, Orlando (407) 895-8396 - "the most authentic sushi in town" says Roseanna & a friend of hers, who lived in Japan for four years.
Hioki's: 3360 US1, Palm Bay (321) 951-2710 - "the freshest, best tasting sushi I've ever had" - a strong testimonial from Ed.
Sakura: 3438-16 East Lake Rd, Palm Harbor (727) 784-1111 - according to John, this new place has a wide variety of wonderful sushi. Among his favorites - the spicy tuna roll, rainbow roll, kamakazi roll (California roll w/ eel), and the yami yami (fried whitefish & crab).
Ratchada: 270 1st Ave N, St. Petersburg (727) 821-7733 - a co-worker of mine suggested this Thai restaurant & sushi bar. Aaron testifies its one of the better places he's visited at a very reasonable price. Check it out - its near BayWalk.
Sushi Zen: 11024 4th St N, St. Petersburg (727) 577-3811 - "Oria" and my friend, Lisa, rave about this place. "Oria" visits this place atleast once a week for the friendly service and fresh fish. The spicy tuna rolls and Mexican rolls are great!
Mori: 2810 Sharer Rd #8, Tallahassee (850) 386-8449 - "Excellent marks for quality and presentation" according to Nancy & Marty. The shrimp tempura roll is a must-try!
Ichiban: 2786 E Fowler Ave #A, Tampa (813) 978-8095 - Chad, who had some harsh words about my favorite sushi bars here in Tampa, sent this recommendation to me. I have many friends who have praised this place as well for the extraordinary quality of their sushi. I ate there for my 30th birthday, and found the sushi to be top notch! The salmon melted in my mouth - I can still taste it, yum!
Matoi (formerly Sam Oh Jung): 602 N Dale Mabry Hwy, Tampa (813) 871-3233 - Richard, along with many others, love this recently expanded Korean joint. They have great service and great sushi - try the Tampa roll. A former boss, Rich, has tried this place and praised it for both its atmosphere and quality of sashimi. This has to be the word-of-mouth favorite in Tampa.
Yoko's: 3217 MacDill Ave S, Tampa (813) 835-4311 - a favorite of my former boss, Lucy...and I've seen this referred to on other sushi pages. I'm curious to try it myself!
Georgia
Harry & Son's: 820 N Highland Avenue, Atlanta (404) 873-2009 - Dianne, a "yellowjacket", recommended this place in the Virginia Highlands section of Atlanta. I guess eating the great burgers and onion rings at The Varsity can get old after a while!
Nickiemoto's: 247 Buckhead Ave, Atlanta (404) 842-0334 & 990 Piedmont Ave, Atlanta (404) 253-2010 - This is Dianne's favorite!
Tokyo: 5830 Moon Road, Columbus (706) 568-6446 - Jonathan testifies this is a great Japanese restaurant with a 20-year-old reputation for great food at reasonable prices.
Sato's: 6050 Peachtree Parkway, Norcross (770) 449-0033 - Sato, the chef, always succeeds in making his customers happy. They have an all-you-can-eat bar, and always offers a wide variety (with plenty of quantity & quality) of great sushi. Tami asked for a yellowtail handroll, and Sato made five of them in a jiffy.
Germany
Basho-An: Im Predicertor 2, 79098, Freiburg (049) 285 3405 - one of Hubert's favorites; very nice people, excellent preparation, and intimate atmosphere.
Hokkai: Thielbek.12 20355, Hamburg (40) 405 530 - Thanks to Martin for sending me this recommendation. He says this place has very good quality sushi & excellent service.
Akasaka: Thierschstr.35 80538, Muenchen (89) 293 100 - great sushi. Check out their party room with karaoke and their Saturday night buffet.
Fuji: Reatastr.12 80634, Muenchen (89) 165 175 - an interesting experience; a "sushi circle" with both new and different & unusual favorites. Quality is supreme!
Sakao: Eleissbühlstr.20, Nuernberg (911) 214 48 222 - very good sushi presented on handmade china. A nice place to sit, relax, and enjoy great cuisine.
Guam
Rotary Sushi: Tumon Village, (671) 649-7560 - Michael, who's stationed with the US Navy in Guam, said this is the best sushi on the island...hands down. While you wait for your order, you can pick up plates of your favorites from the rotating belt around the bar.
Idaho
Shige: 100 N 8th St, Boise (208) 338-8423 - Kelley loves the sushi, served & charged by plate on these floating boats that sail around the bar. The chefs also quickly fill special requests.
Tsuru: 303 N Orchard St, Boise (208) 323-8822 - Vince wrote to me praising the excellent sushi & great service here. Not a place for the yuppie crowd, its built its reputation over many years!
Zutto's: 816 West Bannock, Boise (208) 388-8873 - "The best, I mean the best sushi in Boise" according to Kris.
Takara: 309 E Lakeside Ave, Coeur D'Alene (208) 765-8014 - Ted says that this place has the best sushi in all of the restaurants he's visited in Idaho, San Francisco, and Seattle - excellent! Try the sauteed butter clam appetizer, along with the spicy Takara roll.
Sushi Wabi: 842 W Randolph St, Chicago (312) 560-1224 - Chris testifies that this is the perfect match of atmosphere and great sushi - a must try! Mike agrees its a must try!
Kyoto: 1408 Butterfield, Downers Grove (630) 627-8588 - Duane says the chefs here are fast and friendly...and never tasted better unagi anywhere. The atmosphere is nice and roomy.
Sushi Arigato: 822 N Clark St, Evanston (847) 328-4848 - Laurel drives across town to get to this place. She "loves it" - great sushi outside Chicago!
Kushi Toyo: 825 S Waukegan Rd, Lake Forest (847) 234-9950 - Steve wrote to recommend this sushi bar. Try The Boston Roll, with crab, egg, avocado, cucumber, and spicey mayo.
The Sushi House: 175 W Jackson Ave, Naperville (630) 717-8888 & 281 Rice Lake Sq, Wheaton (630) 221-8986 - Thanks to Melanie for this sushi bar in two sections of Suburban Chicago, with kind staff and very fresh fish. The Naperville location has three tea rooms for intimate dining.
JMK Nippon: 2551 N Perryville Rd, Rockford (815) 877-0505 - muchos gracias Deb for sending this one. This place has great sushi with traditional Japanese decor and wonderful atmosphere. Try the Yakisoba w/ Chilean Sea Bass.
Shogun: 293 Executive Pkwy #2, Rockford (815) 395-0007 - the sushi is out of this world & very fresh. Deb recommends the Green Lip Mussel appetizer. Private party rooms are available.
Yokohama: 12 E Burlington Ave, Westmont (630) 810-0022 - thanks to Jackie for this referral.
Mikado: 148 S Illionis St, Indianapolis (317) 972-4180 - Lara recommends the spicy salmon rolls & the eel nigri. There are nice choices for the non-sushi eater as well; beef roll appetizers, miso soup, noodle dishes, teriyaki chicken, and great dessert choices...among others.
Yoshihachi: 590-3 Kuwae, Chatan-Cho, Okinawa (98) 936-2359 - thanks to Allison for sending us our first sushi bar recommendation from Japan! The sushi here is excellent; an art form as much as it is a delicacy! Kristi further says its the best she has tasted in Japan...and they have the Okinawan style which differs from sushi on the Japanese mainland. For the less adventurous out there, they also have the cooked rolls.
Jun's: 7660 State Line, Prairie Village (913) 341-4924 - Nila's favorite
Cafe Mimosa: 1216 Bardstown Rd, Louisville (502) 458-2233 - a trendy restaurant that doesn't necessarily specialize in sushi, but its good. Check it out.
Shogun: 9024 Taylorsville Rd, Louisville (502) 499-5700 - thanks to Kim for sending me my the first recommendation from Blue Grass Country! She says its the best in the area!
Kamado's: 4215 S. Sherwood Forest Blvd (225) 291-3503 & 4612 Bennington Ave (225) 928-3888, Baton Rouge - thanks to Melissa for these
Shogun: 2325 Veterans Memorial Blvd, Metairie (504) 833-7477 - Crysti says this place, 10 minutes outside of New Orleans, is the best. This a great place for the sushi novice & expert alike. She says to try the crunchy roll - excellent. The food is fresh with a friendly staff. You might have to wait for a table or seat at the bar, but its worth it.
Hana: 8116 Hampson St, New Orleans (504) 865-1634 - Suzie highly recommends this place!
Ninja: 8115 Jeannette St, New Orleans (504) 866-1119 - Suzie's roommate & her boyfriend eat there all the time; they rave about it! When she finally tried it, she loved the shitake mushroom roll.
Shogun: 1409 E 70th St, Shreveport (318) 798-1001 - good sushi with a wide selection, says Garrett. Check out the hibachi grill!
Joss Café & Sushi Bar: 195 Main Street, Annapolis (410) 263-4688 - Carla recommended this as a fun place with delicious sushi.
Kawasaki: 413 N. Charles St, Baltimore (410) 659-7600 - "the freshest sushi I've ever had!" raves Julia. The service is very friendly here. One of her personal favorite recommendations: the crunchy roll, with smoked eel, smoked salmon, and avacado with teriyaki sauce on the inside...tempura bits on the outside.
Sushi King: 6490 Dobbin Rd #F, Columbia (410) 997-1266- Harry couldn't say enough about this great restaurant. First and foremost, the quality and selection is excellent with super-clean premises and professional & personable staff. They have great selections for the non-sushi eaters, but for the sashimi inclined, Harry sent a few item recommendations as well. The Spicy King Crab Roll is made with white seaweed...melts in your mouth! The Golden Roll has shrimp tempura and cucumber in the middle, and eel & avocado on the outside.
Momo Taro: 16051 Frederick Rd, Rockville (301) 963-6868 - highest quality sushi that is reasonably priced & impeccable service with great people are among the wonders of this restaurant. Check out their "dollar sushi night" on Mondays. This is one of Bob's favorites on business trips!
Yokohama: 313 S Broadway, Lawrence (978) 689-4047 - this steak house has a nice, quiet environment with polite staff. The sushi is great, Tim says - try the Yokohama Roll, which has yellowtail, salmon, tuna, whitefish, eel, avocado, and crabmeat. Wow, sounds yummy!!!
Tokyo Restaurant: 143 Fairhaven Road, Mattapoisett (508) 758-3400 - great sushi, but I think Jess goes for the awesome homemade ice cream (coconut, red bean, green tea, & ginger).
OJ's: 29429 Orchard Lake Rd, Farmington Hills (248) 553-5080 - thanks to C.W. for this recommendation.
Akasaka: 37152 6 Mile Rd, Livonia (734) 462-2630 - Rohin had alot to say about this four star treasure outside Detroit. The ambience is wonderful, the chefs are friendly, and the selection is plentiful. Apparently, Rohin is not alone...many people in the area rave about Akasaka. If you want, you can eat sushi the traditional way - without shoes sitting on the floor.
Cherry Blossom: 43588 W Oaks Dr, Novi (248) 380-9160 - Scott says this is the best sushi just outside Detroit Rock City!
Ajishin: 42270 Grand River Ave, Novi (248) 380-9850 - Scott loves Ajishin for the excellent sushi "that won't break your wallet!"
Cafe Sushi: 1933 W Maple Rd, Troy (248) 280-1831 - C.W. sent this one also.
Fuji Ya: 2640 Lyndale Ave S, Minneapolis (612) 871-4055 - "The eel caterpillar roll is the ultimate" says Mike
Origami: 30 N 1st St, Minneapolis (612) 333-8430 - Stephen sent this recommendation to me. The chef, known as "A", is a great guy.
Little Tokyo: 4800 I-55 North, Jackson (601) 982-3035 & Little Tokyo II: 876 Avery Blvd, Jackson (601) 991-3800 - Kevin raved about Little Tokyo, especially about its owner and head chef, Tomeio Demura (a former broker at the Tukigi Fish Market in Tokyo). Unique items like fried crawfish rolls and seared tuna rolls with vidalia onion make this place a gem in the south! Phillip agrees...as he's been to sushi bars across the country, and rates this one the best, hands down. It also received praises from director Joel Shumacher and actor Samuel L. Jackson.
Matsu: 427 Westport Road, Kansas City (816) 531-2602 - "the best in Kansas City, hands down!" testifies Chris. The chefs are amazing and friendly.
Siki: 601 NW Blue Pkwy, Lee's Summit (816) 525-4877 - in this suburb of Kansas City, Mike says Siki has great sushi which is reasonably priced.
I Love Mr. Sushi: 9443 Olive Blvd, St Louis (314) 432-8898 - Ellen sent this one to me as her favorite. Its a relaxed atmosphere with very reasonable prices. The sushi chef is hilarious as he applies his craft.
Nobu's: 8643 Olive Blvd, St Louis (314) 997-2303 - the highest rated sushi bar in St. Louis by a local newspaper for several years running.
Shogun: 56 St & Hwy 2, Lincoln (402) 421-7100 - highly recommended by Dave, especially the Philadelphia roll...which is a clone of the bagel roll.
Sushi Ichiban: 8035 W Dodge Rd, Omaha (402) 391-5047 - "very good sushi" with a broad range of Japanese cuisine to please all tastes. Tom recommends this place highly. The website is delightful, complete with a 360 degree tour, a video clip of the sushi chefs in action, and of course, beautiful pictures of their creations.
Koto: 9400 S Eastern Ave, Las Vegas (702) 221-1600 - Tired of American, Chinese, or other versions of sushi other than the traditional Japanese food style? Try this place. Angela maintains its the best Japanese sushi she's had in the good ol' U.S.A.
Sushi On Tropicana: 2625 E Tropicana Ave #A, Las Vegas (702) 898-8835 - kudos to Sandy for sending us the first recommendation from Las Vegas. She and her boyfriend, an executive chef, agree that this is the best sushi that's "gonna set your soul on fire!"
Sushi Club: 294 E Moana Ln #1, Reno (775) 828-7311 - among all the sushi buffets in Reno, this place stands out as the best sushi in town...according to Mary.
Sakura: 40 Pleasant St, Portsmouth (603) 431-2721 - thanks to Scott who sent this one to me...he says Sakura is the best sushi bar of the three in Portsmouth. The wasabi shumai appetizer is fantastic!
Shogun 27: 3376 State Route 27, Franklin Park (732) 422-1117 - Michael says this is the place to go when you crave sushi, but the rest of the group you're dining with won't touch it - wonderful & varied menu with a long sushi bar.
Ichiban: 66 Witherspoon St, Princeton (609) 683-8323 - good stop for sushi for that leisurely lunch strolling around town or campus.
Sakura House: 301 N Harrison, Princeton (609) 921-7605 - Michael's favorite - he lets the chef decide atleast one order of sushi for him, and he's never disappointed. Chefs and hostesses have a wonderful personality.
Osaka at Docksider: 1919 Bay Blvd, Seaside Heights (732) 830-4422 - Jeanne raved about this place. The personality of owner Teresa Lin is as delightful as the superb sushi.
Osaka: 272 Court St, Brooklyn (718) 643-0044 - Suzie "died and went to sushi heaven" here. The miso soup here is the best, and the rolls are huge!
Blue Ribbon Sushi: 119 Sullivan St, New York City (212) 343-0404 - a classy little place in Soho, without all of the pretension. Don't be alarmed by the lack of a storefront; there's just a small window and mini rock garden next to the descending staircase that leads to this basement restaurant. It's very cozy - ideal for a date who loves his / her sushi. "The Joker" sure knows the best sushi in the big apple!
Bond Street: 6 Bond St, New York City (212) 777-2500 - The trendiest bar "The Joker" knows of...where "the beautiful people" are (and work). The soft shell crab roll is to die for, and the sake is the best in the city.
Fujiyama Mama: 467 Columbus Ave, New York City (212) 769-1144 - this very contemporary, fun restaurant on The Upper East Side has great sushi and great music, as a live DJ spins your dinner music...everything from 80s to modern Japanese techno!
Nobu: 105 Hudson St, New York City (212) 219-0500 - "The Joker" says "if you like your sushi with lots of imagination, this is the place to go." Robert DeNiro (tied for first with Al Pacino for my favorite actor) is a co-owner. This is one of the most famous restaurants in New York!
Sushi Samba Seven: 87 7th Ave S, New York City (212) 691-7885 - Jorge testifies that this Japanese / Brazilian restaurant has the best rolls in the city. The shrimp tempura is a must-try!
Yama: 49 Irving Pl (212) 475-0969 & 38 Carmine St #40 (212) 989-9330 New York City - thanks to Jessica for this recommendation..."the freshest sushi around," she says. No small portions here - she wrote "Think Flintstones!" Try the "spicy green" with spicy tuna, avocado & cucumber rolled rice side out, then rolled in wasabi. She said the location in the village might be crowded and they don't take reservations...so don't let the host steer you to the bar to be forgotten - make your presence known!
Osaka: 18 Garden St, Rhinebeck (845) 876-7338 - a hometown favorite of Suzie's
North Carolina
Cosmos Café: 300 N. College St, Charlotte (704) 372-3553 - an upscale café; a great place to relax with friends. Their sushi chef is excellent according to Marcus!
Mai: 5906 South Blvd, Charlotte (704) 552-1515 - Susanna said this is her favorite outside of Japan. The sushi, from the excellent rice to the fresh flavorful fish make this reasonably priced Japanese restaurant a must-visit!
Nakato: 8500 Pineville Matthews Road, Charlotte (704) 543-8899 - kudos to Derrell for this one!
Waraji: 5910-147 Duraleigh Rd, Raleigh (919) 783-1883 - Ben says that you get your money's worth here with the biggest and best portions. They also have very unique rolls, and the staff is always pleasant.
Beluga: 3520 Edwards Rd, Cincinnati (513) 533-4444 - thanks to Nancy for this one...this is the finest in Euro-Asian dining in the Cincinnati area, with a complete wine list, full bar, and excellent, top quality sushi. This is a Cincinnati Reds team favorite, I'm told. Charlie, one of the chefs there, is quite an entertainer!
Hai Ku: 800 N High St, Columbus (614) 294-8168 - according to Will, eating here is a great experience at a modest price. Its an interesting fusion of art, poetry, and many Japanese & Thai favorites.
Otani: 5900 Roche Dr #1, Columbus (614) 431-3333 - Shane raves about this 19-year-old sushi landmark! Mr. Honda is always behind the bar as head sushi chef and owner, who welcomes every customer as if he / she is a guest in his home. There's no place better for fresh sashimi!
Restaurant Japan: 1173 Old Henderson Rd, Columbus (614) 451-5411 - Jonathan frequents this place atleast once a month.
Sushi Neko: 4318 N Western Ave, Oklahoma City (405) 528-8862 - another favorite from Chris; a bit more trendy and pricey, its truly an experience.
Tokyo: 7516 N Western Ave, Oklahoma City (405) 848-6733 - Chris loves this restaurant for the great sushi and the wonderful seaweed salad.
Shiki: Hwy 101, Eugene (541) 563-4766 - this island spot is where Betsey fell in love with sushi. The sushi chef sings Japanese opera while preparing the fresh sushi.
Yuzen: 81 Coburg Rd, Seal Rock (541) 343-1936 - ever try mussel nigri? Visit Yuzen, because they have it with a wonderful sauce that tops it!
Oishi: 2817 S Eagle Rd, Newtown (215) 860-5511 - "really fresh" fish make for excellent nigri & maki. The chef makes riceless rolls - packed with sashimi on the inside and outside. Mike testifies that this place is truly outstanding. Try the miso soup.
Hikaru: 4348 Main St, Philadelphia (215) 487-3500 - great sushi "on the second floor"...above the hibachi room.
Emerald Garden: 564 Shrewsbury Commons Ave, Shrewsbury (717) 227-2288 - Harry is just wild about this place, mainly for the eel roll, spider roll, and the Baltimore roll...which is the California roll with "old bay" seasoning on the outside.
Rhode Island
New Japan: 145 Washington St, Providence (401) 351-0300 - "The best I've had" according to Rich in Providence!
South Carolina
Inakaya: 655 Saint Andrews Rd, Columbia (803) 731-2538 - sushi plus traditional Japanese fare...rated the best to the Japanese business liason to South Carolina!
Miyabi: 100 Columbiana Cir, Columbia (803) 407-0574 - a Japanese steak house with an excellent full sushi bar - check out the early bird specials!
Saki: 4963 Fort Jackson Blvd, Columbia (803) 787-5307 - the oldest and highest rated sushi bar in town, according to Troy. Its a small & quaint place with wonderful sushi.
Sushi Yoshi: 2019 Devine St, Columbia (803) 931-0555 - Matt, a broke college student who's addicted to sushi as I am, wrote to me with this recommendation. They have a wide selection with reasonable prices and portions. The unagi and hamachi are recommended, and the salmon skin rolls are quite tasty as well.
Sushi Nabe Of Tokyo: 6921 Lee Hwy, Chattanooga (803) 899-5049 - This is Carol's favorite place to go!
Sekesui: 50 Humphreys Blvd (901) 747-0001, 25 South Belvedere (901) 725-0005, & 160 Union Ave (901) 523-0001, Memphis - a fourth location just added at 200 Market St, Chattanooga (423) 267-4600! Jimmy Ishii, locally recognized for his talents, is the owner of these individually unique sushi bars. Kendra frequents the Humphreys Blvd location, where they have private rooms for big parties, a stream running through the restaurant with a bridge, an option to sit on the floor (Japanese style), and even karaoke & sumo wrestling on the big screen television. The South Belvedere location has sushi floating on boats through a moat, where diners can pick & choose what they want (a popular trend these days)...as well as happy hour specials.
Super King: 3678 Ridgeway Rd, Memphis (901) 360-0988 - I try to flock to these all-you-can-eat buffets when I crave lots of sushi without having to get a second mortgage on the house. Well, LunaLissa found Super King, where sushi is in abundance, along with 8 other food bars, for only $5.49 (for lunch) and $7.99 (for dinner).
Texas
Ichiban: 7310 Burnet Road, Austin (512) 452-2883 - thanks to Jennifer in Austin for this one. She said that the wonderful atmosphere sets it above the rest.
Kyoto: 315 Congress Avenue Suite 200, Austin (512) 482-9010 & Kyoto II: 4815 W Braker Lane, Austin (512) 346-5800 - another one of Jennifer's referrals for excellent sushi in Austin.
Musashino Sushi Dokoro: 3407 Greystone Dr, Austin (512) 795-8593 - Dallan sent this one to me..its a swanky sushi spot on the west side of town - found under a Chinese restaurant.
Ichiban: 12101 Greenville Ave #112, Dallas (972) 437-9514 - "No place better," according to Terry
Midori: 4020 N MacArthur Blvd #114, Irving (972) 887-1818 - Sharon sent this recommendation; the best in Irving & the Dallas Metroplex area. Try Steve's Special Spicy Tuna Roll, made without mayo. The smoked salmon is without equal. For the spicy lovers out there, try The Jalapeno Roll - with smoked salmon, jalapenos (obviously), shrimp, & cream cheese...then its tempura fried.
Origami: 110 North 135, Suite 200B, Round Rock (512) 255-4722 - Dallan loves the great sushi at the great prices here. Try the Round Rock roll - shrimp tempura with jalapenos & other ingredients. In viewing their website, I noticed its a beautiful restaurant with a wonderful atmosphere. Check out this jewel outside of Austin.
Sho Chiku: 5930 Centreville Crest Lane, Centreville (703) 266-3053 - "a great little oasis in suburban Washington D.C hidden in the back of a strip mall." Donna testifies that everything here is good, especially the house specials!
Tokyo Inn: 371 Independence Blvd, Virginia Beach (757) 499-4448 - best sushi in Hampton Roads area, according to Ben. Kiechie & Saito always have the freshest fish...a must try is the yellowtail scallion roll.
Miyoshi: 4459 Guide Meridian, Bellingham (360) 647-0545 - Great sashimi (as owner / head chef Masa says, "Fish very young") with wonderful presentation, according to Dave.
Moshi Moshi: 1155 E Sunset Dr #113, Bellingham (360) 756-6016 - the cuts of sashimi used for the sushi are very generous - try the spicy Calfornia Roll!
Osaka: 3207 NW Avenue, Bellingham (360) 676-6268 - great food, fresh sushi, and nice presentation. After dinner, take a nice stroll in their Japanese garden.
Atami: 20023 Pacific Hwy S, Seattle (206) 878-2829 - "One of the best I've been to" according to Dave.
Musashi's: 1400 45th St, Seattle (206) 633-0212 - Jennifer noticed this small sushi bar in her business travels; wonderful sushi with great prices.
Nishino: 3130 E Madison St, Seattle (206) 322-5800 - Kent, a self described sushi addict, recommended this restaurant with great atmosphere. Nicer than most sushi restaurants, but not too pricey. Extremely fresh fish with traditional and creative menus. Everything is recommended here! The rolls are superb, along with the unagi, green tea, and the ginger ice cream to finish off the meal.
Shiki: 4 W Roy St, Seattle (206) 281-1352 - located at the base of Queen Anne Hill, Betsey testifies that this place the freshest fish & the friendliest staff in Seattle.
Sushi Tokyo: 6311 Roosevelt Way NE, Seattle (206) 526-2935 - Amazing sushi with a neighborhood feel. Kent says the best bets are the spicy tuna rolls and tempura shrimp rolls - the best around!
Toyoda Sushi: 12543 Lake City Way NE, Seattle (206) 367-7972 - Small, and a bit crowded, this place has excellent service and a large staff. The nigri is top of the line, with huge fresh pieces. The albacore nigri, octopus nigri, and spicy tuna rolls are the recommended bites here. Thanks Kent for three excellent recommendations!
Four Seasons: 15740 Aurora Ave N, Shoreline (206) 361-7478 - Rachelle, a talented artist, signed my guestbook with this recommendation just outside Seattle. The Four Seasons Japanese restaurant has nice folks, generous servings, and a huge menu of Japanese & Korean dishes...including some exotic treasures.
Hibachi: 839 4th Ave, Huntington (304) 697-0920 - the best around when it comes to quality, service, and the calibur of food & presentation. Terri drives out of her way to eat at this Japanese steak house & sushi bar!
Izumi's: 2178 N Prospect Ave, Milwaukee (414) 271-5278 - Nancy and her husband, on a trip up north for a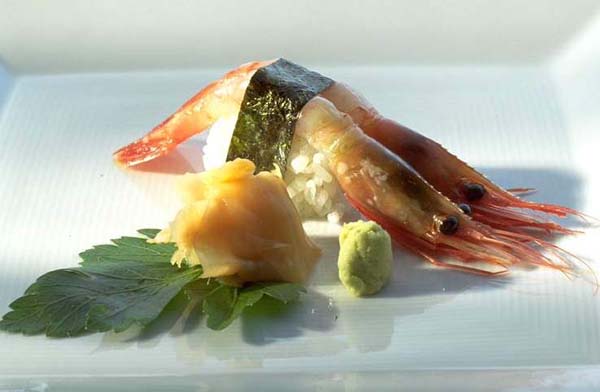 family wedding, discovered this hidden treasure...and their only regret, "was that our tummies couldn't hold more, and that the visit was not long enough to try everything on the menu." The mirugai appetizer, which is their grilled eel, is great...and they really loved the ama ebi --->. The chef will make specialty rolls to request.
South Seas: 2025 E 2nd St, Casper (307) 237-4777 - Jody, who has eaten sushi all over the US as she travels on business, says that she was delighted with the wonderful preparation of this restaurant. Their specialty is the rainbow roll, which she claims is the best!
Keep 'em coming! We now have recommendations from readers in 40 US States & 6 foreign nations!!! If you would like to add your favorite local sushi bar to my list, please e-mail me with the name, address, web site (if applicable) and phone number of the restaurant - along with the chef's name if your prefer...and, most importantly, your opinions. What makes this the best sushi bar in your area? International readers - please please please...be very accurate with the address and phone number (including area or city codes [?]), because it is difficult to verify in the foreign Yahoo search engines. No negative reviews, please...and I have the right to refuse a posting if I can't verify the address in Yahoo's yellow pages. One last thing, if an establishment closes down (or you don't find it good anymore), please let me know...so I can update the page. Thank you, and I apologize for the "unpleasantries".